By Staff Writer
"The Family That Plays Together Stays Together" is a commonly-heard phrase, and in the case of Straw, couldn't be more accurate. This Denmark-based band consists of Carsten Fabricius (guitar-vocals), Carsten's wife Henriette Lykke Fabricius (lead vocals/guitar), and daughters Sally and Denise (vocals). Straw stands for "strong nature and flexibility." The group recently released two well-received videos, "Bang Bang" and their most recent, "1965."
   The band recently spoke with Indie Go Rock, who asked them 5 Quick Questions.
IGR: Straw is a true family band, in that it's composed of a husband, mom and two daughters. Is that ever a challenging dynamic to deal with?
Henriette: Yes, we often have issues because we´re all very engaged to the music and we all have our own ideas, but somehow, we manage to end up agreeing on band decisions we´re all happy with. I think it´s because we´re good at listening to and understanding each other.
IGR: What process do you enjoy more, recording music or creating videos, and why?
Henriette: It depends on who you ask… again, we´re different individuals. I love to record music. It´s very exciting to experience the development in a song, try different sounds, just tiny things can make a big difference and at last, end up with a newborn song and sound. It´s a place where you´ll live out all kinds of moods, love, sadness, happiness etc. I love it.
Carsten: I´m using the creating songwriter-process like a kind of meditation when I'm sitting with one of my many acoustic guitars. The humming of the guitar and the many sounds it makes when I'm writing new themes is like heaven to me. I love that process more than anyone can understand 🙂 – but I'm very fond of all the process and all of us are working hard in the creative process. I have a special relationship with the video process. I have the expertise at the technical level and enjoy putting the movies together for the videos we make. And the thrill of sending a new single-video to the audience is huge. Every time (I do so) I'm dying of excitement.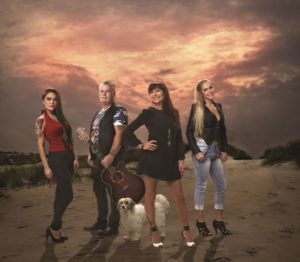 IGR: Is the media (press) in Denmark supportive of up-and-coming music acts like yourselves?
Carsten: No not really or at least, not for free. Our experience is that the audience would like to hear and see something new, but as it is in most of the world, there are a few companies that get their stuff out in the big media outlets. We have luckily been well-received by audiences, but it is a very difficult task to get booked at the big festivals and clubs with new music and songs.
IGR: What would you say are the three main topics you like to write your songs about?
Denise (oldest sister): Sex, Drugs and Rock N' Roll – HAHA! No! It's a joke (laughs). I like to write about crises in life, not only sad love stories but also about the everyday crises and the struggles we all may have within ourselves on a daily life basis. Also writing about goals in life inspires me very much.
Carsten: Sometimes I like it "light" – just happy, naive and superficial – and sometimes with a message between the lines. But basically, that's what I've got in my mind right here and now, that's the most important thing. As I have said before, our songs are often a way of thinking about some things and putting them in motion.
IGR: Looking ahead through the proverbial crystal ball, what do you foresee in the future for Straw?
Carsten: We can't predict the future – but of course we would love to play some concerts and festivals. In the nearest future, we rely on the radio to play our singles. Currently, it's the singles "Bang Bang" and the new one, "1965", and we promise there are more to come. We hope that it becomes possible for us to plan a Straw Family Tour in the U.S. Right now we're all busy getting the singles and music videos done, but hopefully we'll have time to plan and schedule a U.S. tour afterward. It's exciting to see what the future brings.
But one thing's for sure – the Straw Family will produce a hell of a lot more material for the rest of our lives. You can bet on that 😊
Straw Links:    www.straw.de; www.facebook.com/StrawFamily;